Staff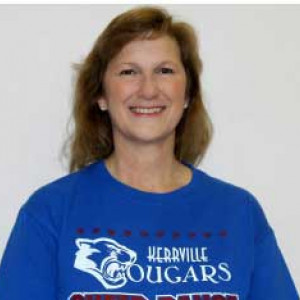 CeCe Jean Saunders
Owner/Operator
I knew at a very young age that I wanted to follow in my mother, Peggy Anne's, footsteps as I grew up at the studio. I watched her patiently teach her students the art of dance as she made each of them feel beautiful and talented, including me. I knew I had big shoes to fill and I try to make her proud every day. I grew up performing and competing in all the types of dancing and twirling. I graduated from Tivy High School in 1983 and started working side by side with my mom. We worked together until she hung up her tap shoes in 2008 at 81 years old.
I currently coach the competitive cheer & dance teams, the Kerrville Cougars. I also teach non-competitive cheer, ballet, lyrical, jazz, and tumbling. I feel very blessed to have a job that I am so passionate about. I love to watch my students develop self-confidence and poise as I hope to help make memories that will last a lifetime. It is so rewarding to have our former students grow up and bring their children and grandchildren to participate in our classes and make their own memories.
I am so lucky to have such an amazing staff that I can trust to care about our students and want them to achieve their personal best. They are more than employees to me - we are a family!
I am married to Billy Saunders and we have 5 wonderful children and 4 precious grandchildren, who all participate in our classes.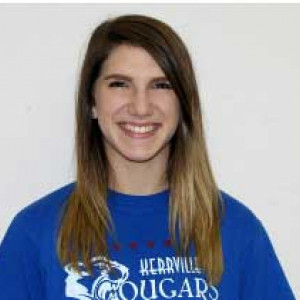 Cheyanne Klein-Saunders
Instructor
My name is Cheyanne Klein-Saunders and I teach both younger and older tumbling, non-competitive cheer, choreograph cheer/dance solos, and coach our competitive teams- the Kerrville Cougars. Growing up in this studio alongside my grandmother, Peggy Anne, and my mother, CeCe Jean, I quickly developed a passion for what they were teaching and eventually for the business itself.
I have been officially employed for 9 years. Personally, this is more than a job for me as I hope to make a difference in my student's life. I've had the opportunity to experience and perform in all the classes we offer, compete in dance and cheer with the Kerrville Cougars, was a 4-year Tivy High School cheerleader and was a part of the All-Girl UTSA college cheerleading squad.
Angela Alvarado
Instructor
I am a 2006 graduate of Tivy High School where I took part in various Performing Arts activities such as Show Choir, One Act Play, 4 years on The Golden Girls Dance Team, Danceline USA Elite Team Member 2004-2006. During my senior year I began teaching at Tx Cheer and Dance Company in San Antonio where our squads were able to perform at the Arneson River Theatre in Downtown San Antonio along with UTSA and Spurs half time shows. I began teaching hip-hop at Peggy Anne - CeCe Jean's in 2008 and have since taught jazz, ballet and the Kerrville Cougars competitive dance teams. I have one daughter (Ava) who is a member of both cheer and dance competition teams along with one stepson (Mason) who enjoys baseball and basketball. My husband, Pete, is a local Barber and during the day I am a Medical Assistant at San Antonio Kidney Disease Center.
Instructors